I'd like to say I took so long getting this done because re-formatting 5,000 words with pictures every paragraph can take a really long time, let alone drawing the pictures themselves. I'd also like to say this has been waiting as a finished draft, ready for me to press publish, for the year since I was given the text.

The reality is, I'm just lazy, and after getting the two portraits finished, I let this sit for over a year with nothing being done on it.

No longer, however!

This was taken from a roleplay scene in World of Warcraft, shortly after Thorin was detained by the < Stormwind Union > for starting a brawl with another character. Evelos shows that the healing he's trained in is not just patching someone up physically, but also mentally.

Some word choice has been changed, as the original writing was done in present tense. I also had to remove some artifacts left over due to this being created by two people typing at each other in real time, rather than a single stream of story. Enjoy.

Editor's Note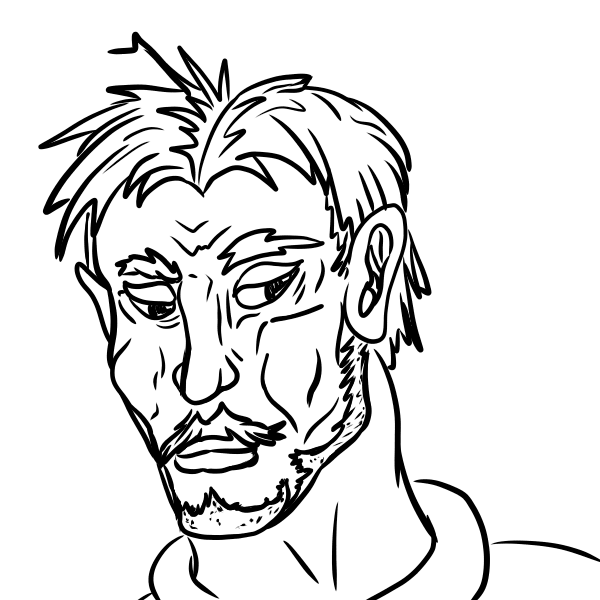 Thorin sat on the cold, damp floor of the Stormwind Stockades, back propped up against the wall. His head resting against the rough stone, he stared sullenly out between the bars of the cell. The cell block hallway echoed with the soft sounds of dripping water and the quiet early morning rustlings of the other inmates. Across the hall, the man from last night's brawl slept sprawled on his cot, snoring softly.
Thorin watched him with a small degree of jealousy. How anyone could sleep in a place like this was beyond him. For fel's sake, he couldn't even escape the nightmares in his own bed at home. Here, it would be next to impossible.
There came the shuffling and soft clicks of armored feet on the aisle outside as the guard changed. One guard moved along the cells, looking into each briefly, verifying each prisoner was still there and showing at least some signs of life. The morning gruel was pushed in, and there were a few snippets of conversation between some of the more friendly prisoners and the kitchen staff, before they moved on.
So lost in his own thoughts, Thorin barely noticed the gruel. He nudged it aside with his boot, with a look of distaste as he leaned forward, elbows propped on his knees, to cradle his head in his hands.
---
It was maybe a half hour, or maybe several hours, when a ren'dorei in a medic's uniform walked purposefully down the aisle. His gray hair was starting to show traces of blonde closest to his scalp, though his flesh was as pale as ever. He stopped up front of Thorin's cell, looking in without speaking, quel-dorei blue eyes glowing from within his blue hood. Thorin could recognize him from the Watch squadron that had responded to the brawl the night before.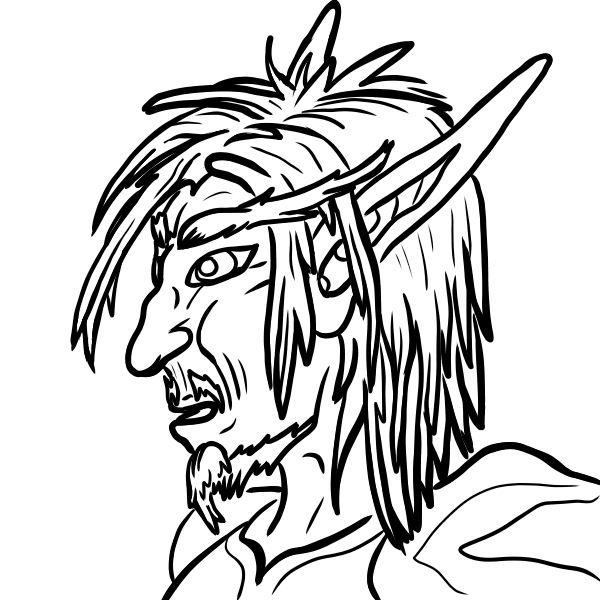 ---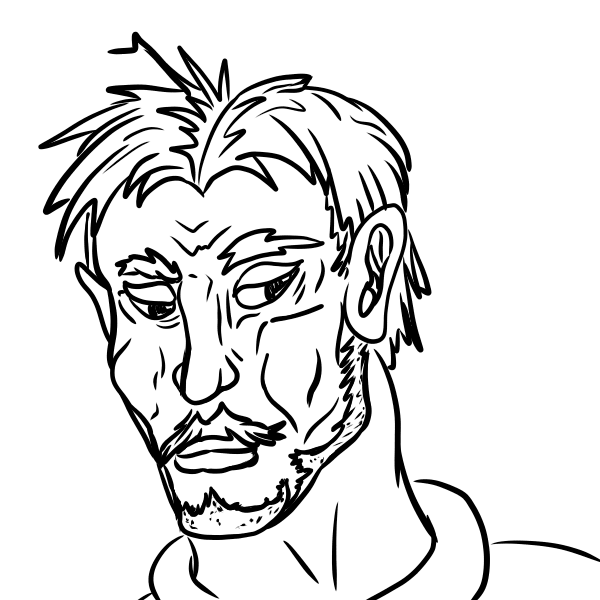 Thorin stiffened at the sound of feet scuffing to a halt in front of the cell. After a long moment, he sighed and ran his hands through his hair, before sitting up slowly. He leaned back against the wall again, staring coldly up at the ren'dorei, before turning his attention back to the opposite wall, pointedly avoiding the elf's gaze. "You want something?" He intoned flatly.
---
"I came by to check on you," answered Evelos. "How are you doing this morning, sir?"
His tone was polite, even, and moderately cheerful, though his eyes, thoughtful and measuring, didn't change. After a moment of Thorin avoiding his gaze, he also looked away, towards the wall Thorin was staring at.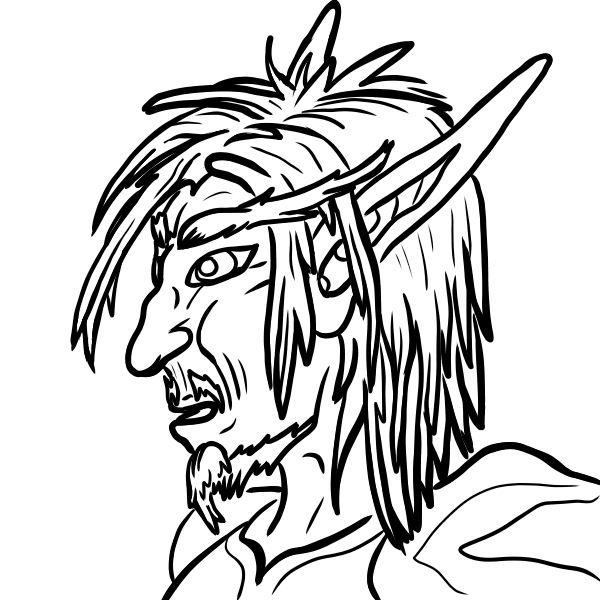 ---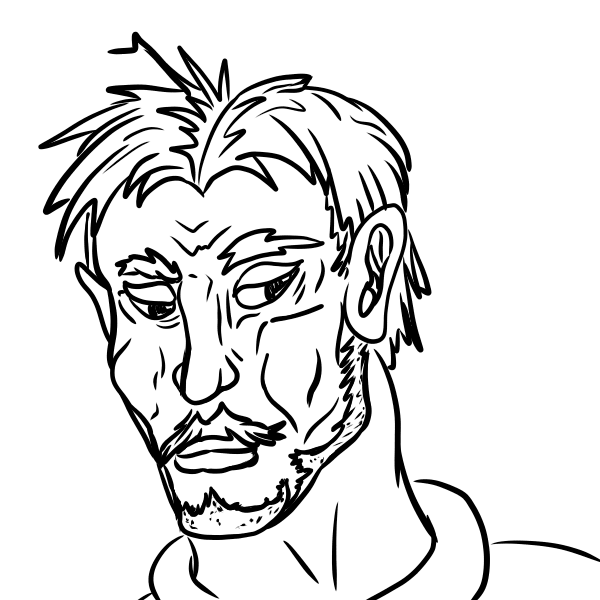 Thorin scoffed as he grunted a reply, his tone laced with bitterness. He glanced up at the elf with a scowl. "That's a hell of a question!" Chuckling mirthlessly, he gave his attention back to the wall.
---
Evelos smiled faintly. "I'm guessing 'good' isn't part of the answer, then."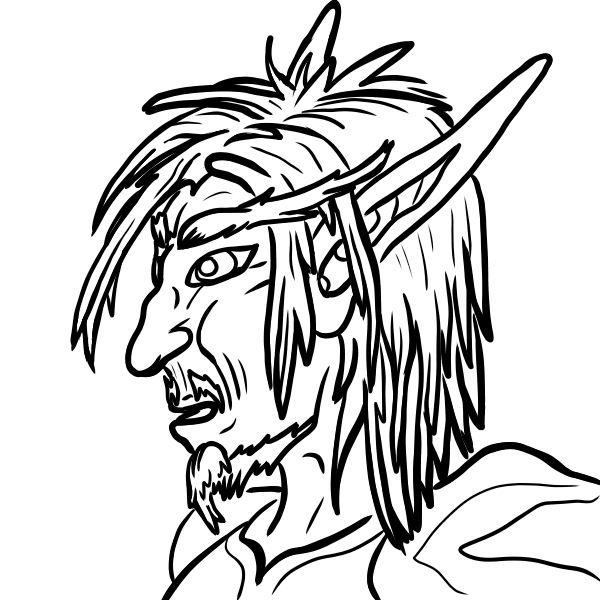 ---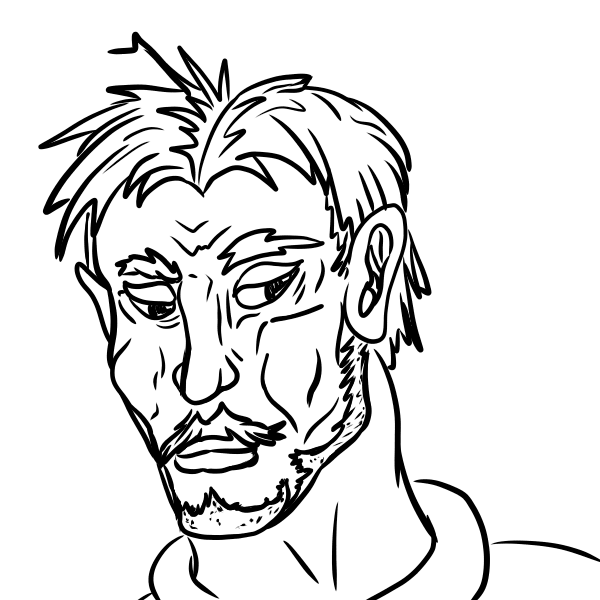 Thorin growled under his breath, "No sh*t."
---
Evelos' smile turned into something between self-deprecating grin and a sarcastic smirk. He slid to the floor to sit, cross-legged. "So, on a scale where 10 is moderately crappy and 1 is wanting to destroy the entire world, where do you fall?"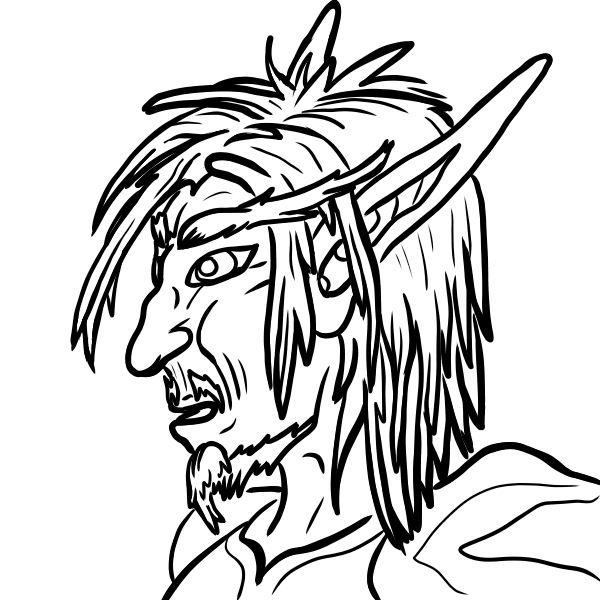 ---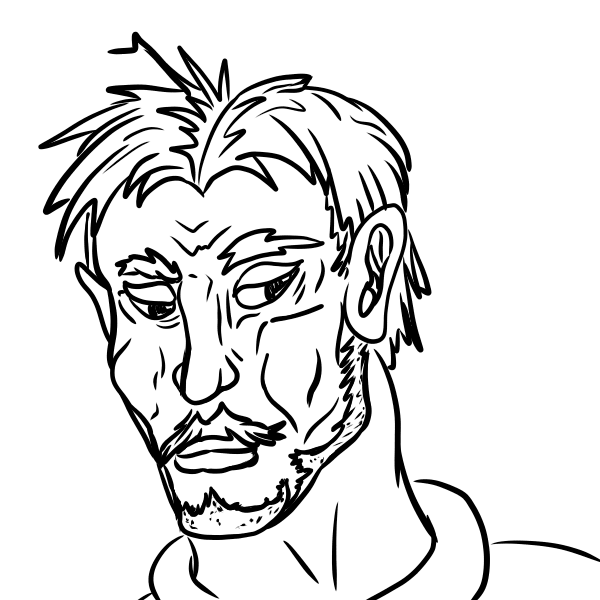 Thorin gave the elf a side-long glare, watching as he settled to the floor. He ignored the question, glowering at the wall, perhaps hoping the bothersome elf will give up and move on.
---
"Hmm," Evelos hummed thoughtfully, as if Thorin had responded. After a few moments he pulled out a notepad and pen and started writing or sketching something, but the paper didn't look like an official report. For the moment, he seemed quite content to do just this, his attention no longer on Thorin.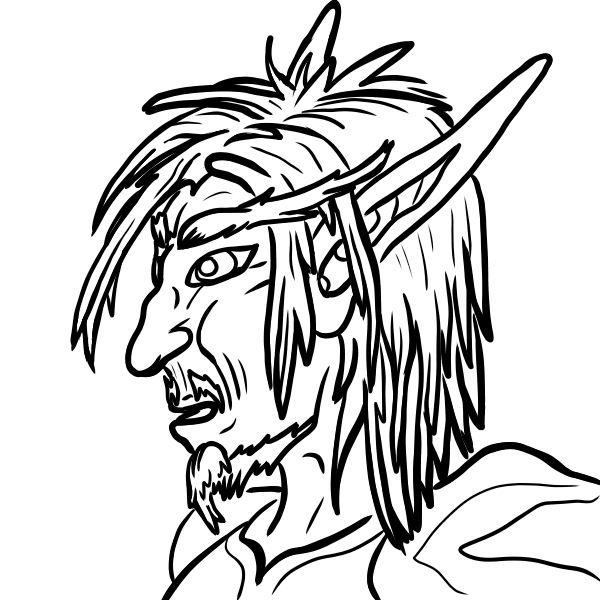 ---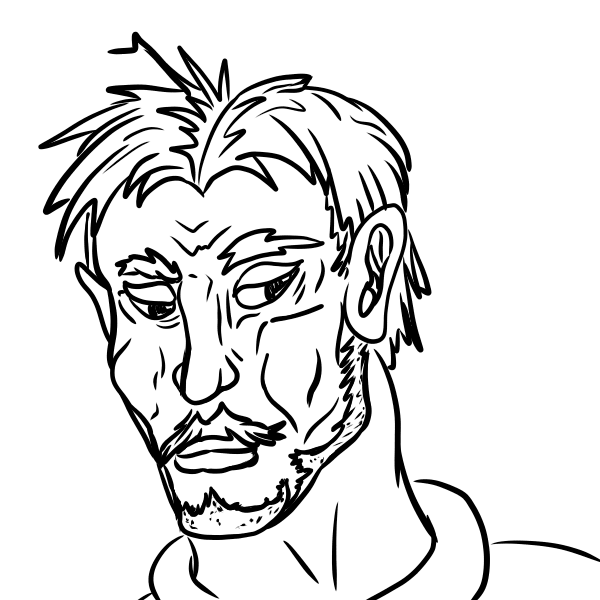 Thorin huffed in annoyance, striking his head softly against the wall a couple times. Then he just sat, scowling silently.
---
The head-banging caught Evelos' attention, but after a studious glance, he decided Thorin wasn't going to beat himself to the point of unconsciousness or anything, so Evelos continued doing whatever he was doing on the paper.
"Have you ever heard of Summerleaf?" he asked after a moment, naming some elven poet from a decade or two past.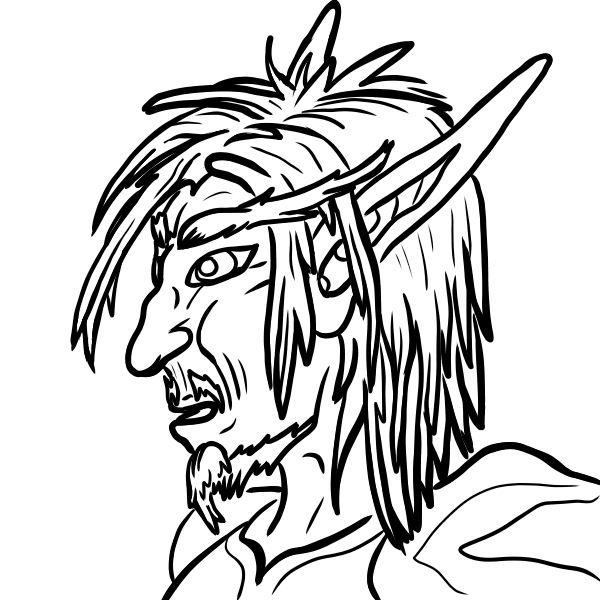 ---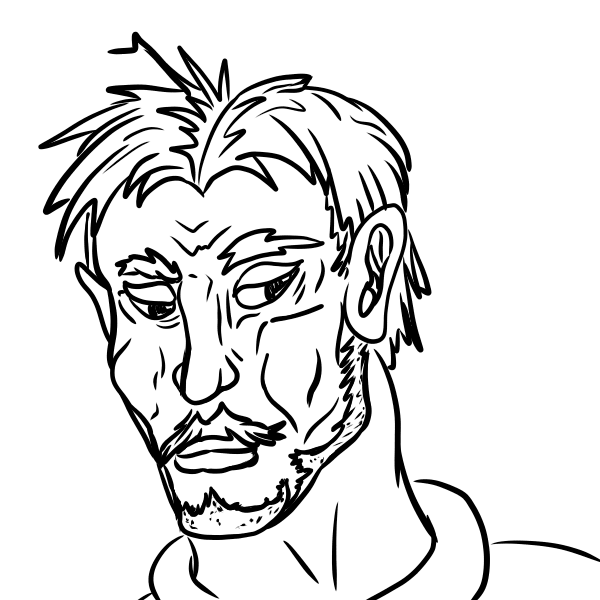 Thorin grumbled, unamused, "Nope."
---
"He has a number of sayings I'm rather fond of. This one is, 'When envoys are sent with compliments in their mouths, it is a sign that the enemy wishes for a truce.' And then there is also, 'If you know your enemy, and you know yourself, you need not fear the results of a hundred battles.' …Though I have seen that one translated a few different ways. He was an officer during the Second War, you see."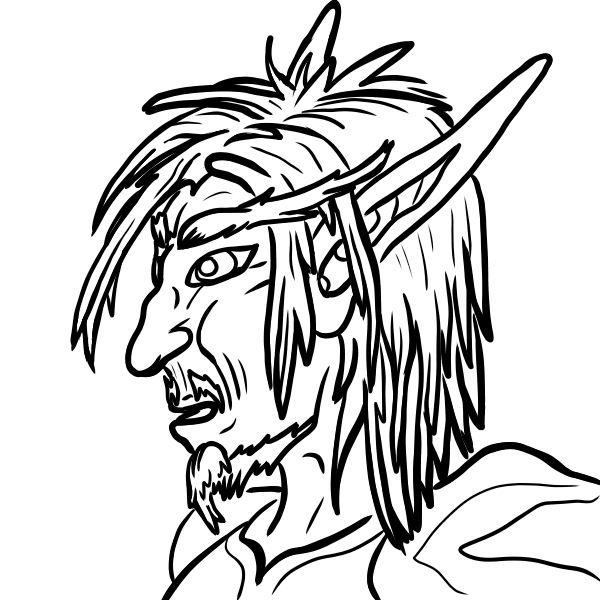 ---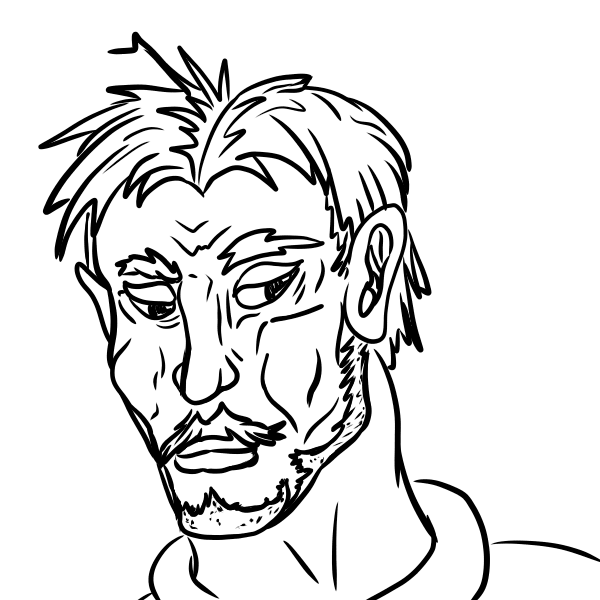 Thorin sighed and rolled his eyes. He glanced over at the elf. "What's your deal, buddy? I don't need your advice. If you're gonna sit here and lecture me, might as well get on with it."
---
"Ahh, that isn't truly my purpose here today." Evelos made another note or whatever on his paper, then looked up at Thorin. He hesitated, then said, "I'm a healer. I examined your 'friend' over there last night, though he ultimately decided against treatment–" He nodded to the sleeping Dick in the other cell. "Sometimes officers in the Watch will make deals with the accused. Tell us who else was involved in the crime — give us dirt in other words — and we'll let you go early. You can argue over how effective or ethical it is, but it's out of an understanding that… sometimes there's more going on that meets the eye. And… you strike me as one such. Not in a criminal way, truly — I've taken in a lot of people who are found guilty of assault or even murder, and they do those crimes with cold blood in their veins. But that isn't you… is it?"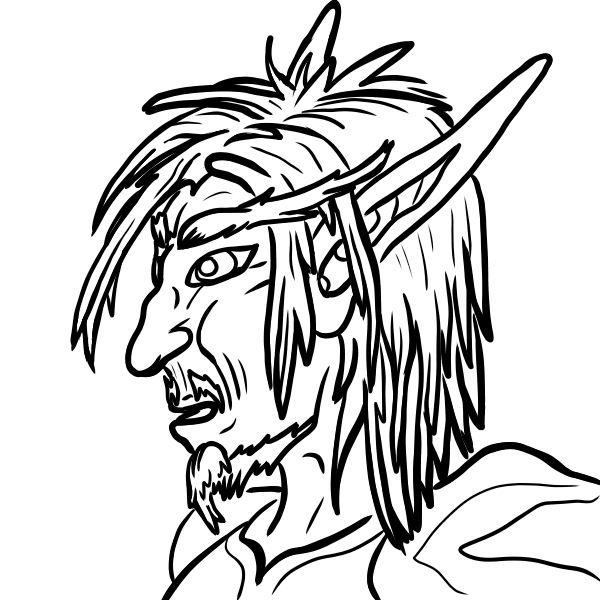 ---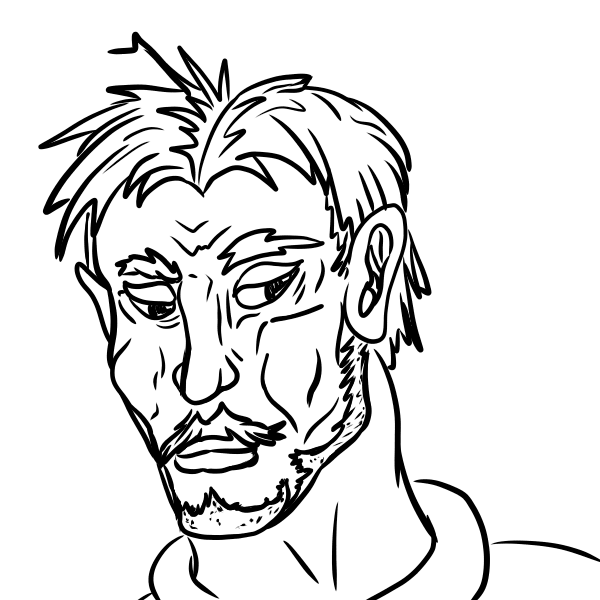 Thorin turned his head slowly to glare at the elf, blue eyes narrowed coldly. He held Evelos' gaze for several long moments. When he finally spoke, his voice was tired, angry. "Whatever you're about, say it plainly and get it over with. What the hell do you want from me?"
---
"Nothing," said Evelos, his surprise honest. "You seemed… well." He took several minutes to formulate a response.